Frank Ferrucci
Composer and Recording Artist
Composer, keyboardist and co-founder of the world music group Criara, Frank Ferrucci has been an active performer and film composer for 25 years. During the early seventies, while studying piano and composition at Berklee College of Music in Boston, he began writing for film, dance and music groups. When he moved to New York City in 1975, Frank's music became influenced by the strong presence of Latin American, Brazilian, Jazz and Caribbean music and culture in New York City's music scene and, as a result, in 1976 he formed a quintet to perform his music which was described in CODA magazine as "...combining Latin, Jazz and Folk elements into a rhythmically infectious sound". In 1978, Frank joined the group of saxophonist Gato Barbieri , with whom he gained international recognition as a pianist, and with whom he performed and recorded regularly through 1986. In 1982, his debut album, Jewel Eyes was released to critical acclaim on Wren Records. His annual "Music of the Americas" concerts, presented by the Bottom Line and Sounds of Brazil in New York were described in the New York Times as "fusing the advanced harmonies of 1960's jazz with an array of tropical rhythms, invoking by turns, Salsa, Folk, and Brazilian music."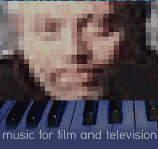 Ferrucci Music
A new source for unique production music



The searchable database of over 3000 music cues on this site is from the personal library of composer Frank Ferrucci and is offered as unique production music for licensing. There are long underscores, themes, Latin, swing and Brazilian rhythmic pieces, bumpers, transitions, orchestral and many more in a variety of styles. The music database is searchable by Genre, Style, Mood, Instrument or Tempo. The results can be auditioned and, once registered with the site, multiple lists of selections can be saved and lo quality mp3 versions of the cues in the list can downloaded and auditioned in your video editing workstation, before licensing. After a cue is selected for use, upon signing a licensing agreement, a high quality version of the cue will be made available.


Frank continues to live in New York City, where with Sound Designer and Criara Co-founder Scott Lehrer, he wrote and produced Criara's first CD, Behind the Sky , released in the US on Metro Blue Records and worldwide on EMI Records.

As a film composer, Frank has over 100 credits to his name, including the feature thriller Fallout (1996) and work with Richard Robbins on the scores of the Merchant Ivory Productions' films Mr. & Mrs. Bridge and Slaves of New York . Frank has recently completed scores for two ABC films, Ecstasy Rising and The Kennedy Assassination: Beyond Conspiracy , and has scored the 2002 ABC In Search of Americ a series, with Peter Jennings. He has also scored the first two seasons of the Award winning PBS Environmental Series "Journey to Planet Earth ", His many television documentary scores include the recently Discovery Films Special The Italians , produced and directed by William Livingston. Frank has scored the 2-part PBS National Geographic Special The Great Indian Railway and other films for National Geographic Television, ABC's World of Discovery, PBS American Heritage Series, NOVA, The Learning Channel's Great Books series, Reader's Digest Films and Lifetime Television. Other films include), Mr. Sears Catalog (American Experience/WGBH/Obenhaus Films), Discover Russia (National Geographic/William Livingston Productions), Who Shot President Kennedy (WGBH/NOVA), the National Geographic Special The Mexicans-Through Their Eyes,, ABC's World of Discovery documentary Bikini-Forbidden Paradise and the Emmy Award winning Earth Summit Pledge for the Earth Summit Conference in Rio de Janeiro

. He has composed the music for the large multi-media installation at the Ellis Island Museum in New York and exhibits at the Museum of Contemporary Art, Los Angeles and the Children's Museum of Manhattan.

To search the data base now, hit the GO button or the SEARCH button in the header.