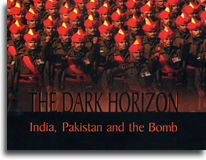 Dark Horizon: India, Kashmir and the Bomb
2000, ABC News, 60 mins, Produced by Mark Obenhaus, Peter Jennings.
Frank Ferrucci's score for this film is, well, dark, as the title implies, given the seriousness of the theme. The score combines low East Asian drones, orchestral strings, urgent percussion, mystical Indian Flute (performed by Mitch Greenberg), shenhai and sitar.
From The Hoya:
"Jennings' recent award-winning ABC documentary focused on the impact of nuclear weapons as well as the festering ethnic, religious and national problems between India and Pakistan over the disputed area of Kashmir."