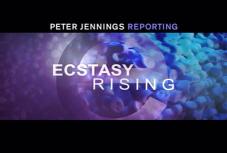 Ecstasy Rising
2004, 90 mins, ABC Primetime Special, Peter Jennings, Mark Obenhaus, Producers.
Peter Jennings tells the epic story of Ecstasy that has never been heard.
Frank's dark score combines electronic and unique use of orchestral instruments to define the conflicting themes presented in Esctasy Rising, including some club music cues.
From the ABC web site:
In the 1990s, Ecstasy seemed to come out of nowhere to join marijuana, cocaine and heroin as one of the four most widely used illegal drugs in the country. No other drug has ever spread so fast. To halt its spread, the U.S. Government has spent millions of dollars making a dramatic case against Ecstasy as a dangerous drug. The headline of this campaign has been that Ecstasy causes massive brain damage.
But this is a claim based on flawed science, and many Ecstasy users now feel their government has no credibility. What do we know about the real risks of Ecstasy? Has the government been its own worst enemy in the fight to stop the drug's use? Peter Jennings Reporting: 'Ecstasy Rising' takes viewers through the seminal events in this story and introduces all the major players -- from Alexander Shulgin, the famous chemist who was the first person to report the effects of Ecstasy, to Michael Clegg, the Dallas businessman who gave Ecstasy its name and turned it into a recreational drug, to the drug enforcement officer who led the fight to make Ecstasy illegal, to the DJ who brought Rave to America. This special tells the definitive story of how an obscure compound, discovered in 1912 and all but forgotten for over 60 years, became the drug of choice for a generation.