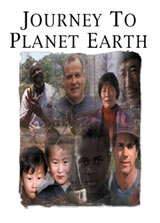 Journey to Planet Earth: Grasslands
Series of 8 PBS films, 1996-2006, Hal and Marilyn Weiner, Producers.
The series Journey to Planet Earth series explore the fragile relationship between people and the world they inhabit. and the necessity to achieve a balance between the needs of people and the needs of the environment.
Frank's music for Journey to Planet Earth spans the globe, combining musical flavors of Brazil, Africa, Central America, the Middle East, New Orleans Jazz, Americana, and more traditional orchestral scoring. As a whole, this is a true World Music score.