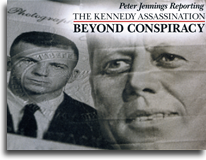 Kennedy Assassination:Beyond Conspiracy
2004 120 mins, Produced by Mark Obenhaus for ABC News; Peter Jennings, Executive Producer
The orchesration of Frank's score for this film revloves around subtle French Horn and Trumpet, sometimes muted with quiet strings. There are some somber cello cues as well, plus clarinet solos and some percussive orchestral pieces. There is a slight jazzy element to the overall feel of the score, especially when the harmon muted trumpet is featured. There is a great New Orleans style cup mute trumpet solo in the sample cues.
From the ABC web site:
"No other murder in history has produced as much speculation as that of President John F. Kennedy. Forty years after he was fatally shot, more than 80 percent of Americans still believe there was a conspiracy to kill the president and that the assassin, Lee Harvey Oswald, did not act alone. After a thorough investigation, including more than 70 interviews, ABCNEWS has produced a two-hour special that separates facts from conspiracy theories and gets to the truth.
Peter Jennings Reporting: The Kennedy Assassination Beyond Conspiracy showcases intricate forensic technology that makes it possible to be an eyewitness to the crime of the century, allowing viewers to see precisely what happened in Dallas' Dealey Plaza on Nov. 22, 1963."